It was Wednesday last week. I had to take a call whether I should go to World Homeopathy summit 2015 Mumbai. I had heard about World Homeopathy Summit in Mumbai being organized by Global Homeopathy foundation way back in dec – from one of the practitioner. I was not sure whether it made sense for me to join or whether I can join as a delegate? I decide to call the organizers to find out whether a non-practitioner can join the conference. I got ok. I thought it might be good platform to hear/meet some of best minds and practitioners at the conference. With some deliberation, I decided to go for it.
I tried to join the gang of experienced practitioners (& professors) from JS Homeo college but somehow could not synchronize my itinerary with them. Sat (11th) – day started with boarding an early morning flight from Hyderabad to Mumbai. I meet the Dr. KR Prabhakara Murthy & a set of JS College alumni & practitioners from Hyderabad – at Mumbai airport.  From Sat morning to Sunday evening – it was like being in a crowd – whichever way you go – you hit next person who is doctor, scientist, researcher; quite unusual for a software guy. Every other discussion fired different part of my brain!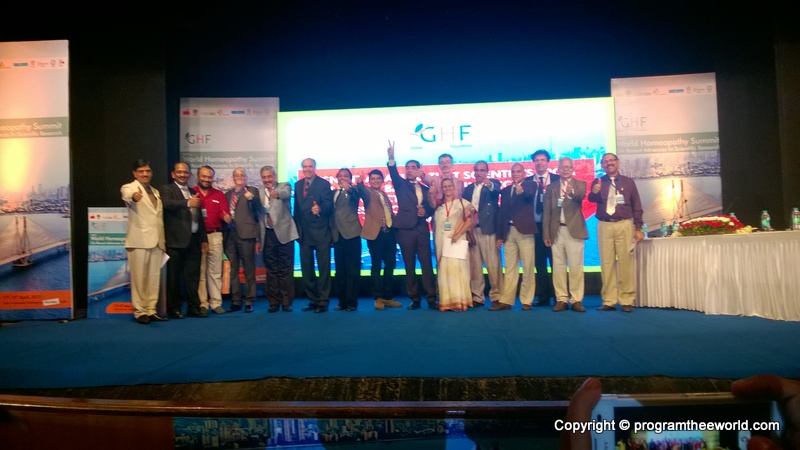 It was heart warming to see classmates meeting after 20-30 years, hugging and laughing out their college times! It was nostalgic to see student, prof and prof of prof taking a walk together along the new marine lines beach together. In general, I found that there is good bonding between Profs (many of them are practicing) & students – my sample size was certain limited. There was lot of energy from students – some interested in goodies @ conf (like club mahendra free stay) & hanging around with friends, some having serious discussion about their research / projects, some chasing celebrities like Dr. Dana Ullman for a selfie who was available at arm's length at times (Dana was also kind enough to let me click a selfie with him) and many remained glued to their seats in the auditorium to listen to each lecture until last hour of the conference.
Did you know that India has 150+ Homeo medical colleges? Did you know that India has 250K+ homeo practitioners? Did you know that Gov of India now has separate ministry for Homeopathy? Did you know that in some countries like USA, Homeopathy faces challenges from modern medicine significantly? Did you know that homeopathy medicine becomes more powerful as it is diluted more & more? Did you know that it can act at a sub atomic level? How it can be enabler/catalyst for the human vital force to build balanced harmonious human being? I am quoting few things I get to know here.  For all the people seeking science base & spirituality existence at the same time – it threw more light at the subtle phenomenon – how "like cures like" is used to trigger the human immune system (vital force). Like I need to face my fears to overcome them, body also need to face some of these diluted things – to build up its subtle immune power.
While a set of practitioners (including conference focus) were seeking scientific base to establish Homeopathy credibility, there were practitioners who questioned this & whether this is against the spirit of Homeopathy & at a time when modern medicine is into soul searching about their processes – taking Homeopathy in that direction is right? Both sides are probably right in a broader holistic view and conference enabled them to have a platform to raise their views.
There was government organizations participation like CCRH as well. In fact, CCRH sponsored a day lunch and made additional donations. Also expressed their interest in sponsoring research projects. There was participation by Dept. of Ayush executives and many other top bureaucrats. Few things from Dr. Manchanda lecture stick in my memory. Answering a question that – there is need for a elaborate library with access to achieves of leading international journals. He mentioned that CCRH has already have digital access to many of the renowned international journals, encouraged & call to action to the colleges to seek access & enable their students to get exposed to the latest research. On a low note, he mentioned that despite his repeated asks – only a handful of the colleges are leveraging the resources!
There was one mention that practitioners & researchers need to instead focus on putting forward more positive results rather than defending & having a negative commentary when homeopathy is dismissed as non-science or discredited; like looking at glass half full vs half empty. There were couple of discussions & presentations on usage in veterinary & call for action to bring together practitioners working in that domain. There was one presentation by Brazil delegate that walked through long list of research papers in past years. There was strong interest in few presentations – one by IITB about nanoparticles  presence in homeo medicines, few on nosodes, one about application to cancer  and one more that I mention little later. I might have missed some since I did not take notes instead depend on my memory.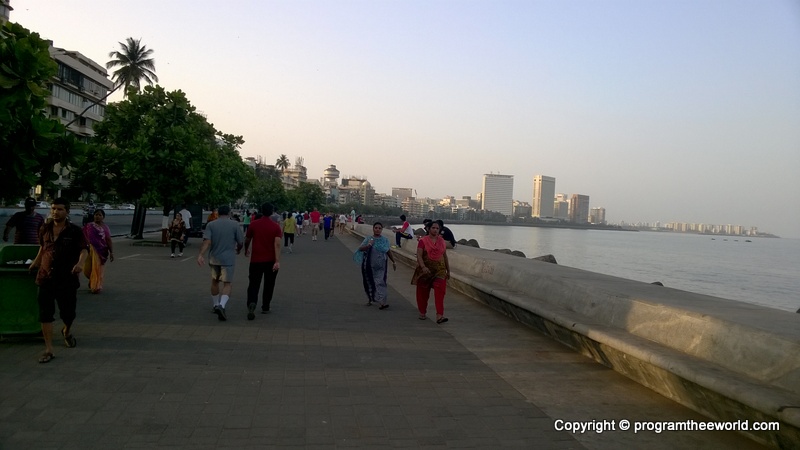 Location was nice right in the hub of Mumbai – marine lines. Beach was at walkable distance. Railway & airport at reasonable distance. There were minor issues with mikes and strong lights glare on stage for speakers. Otherwise, good audio visuals. Few stalls – club mahendra promised 3 night free trip (riders unknown) to delegates, free homeo medicines to practitioners from one vendor, one stall of homeo software. One stall to delegates to click their selfies as memorabilia. Welcome kit & participation certificate. There was minor traffic during registration but minor teething issues are expected at any place. Decent simple packed lunch on both days. I forgot to mention delegates recorded their feedback as one of the fun activity and chatted around Tea counter during breaks.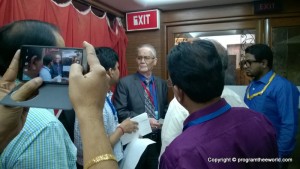 Finally – let me come to the Dr. Khuda Bukhsh talk on day 2. This talk was in my opinion was one of the highlights of the summit & deserves special mention. He threw light on interplay of human genes & homeo medicines in dilution such as 30c. If you missed it – I heard that organizers might make available recordings of the talks on dvd. This talk will certainly be a recommended watch – my personal favorite. He got standing ovation from the crowd for his work & talk.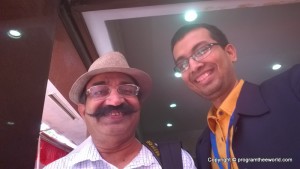 On a lighter note – I met one senior practitioner from Karnal (my memory defies me to remember his name). He simply stood out of the crowd with his hat & staunch mustache. I could not resist but to request for a selfie with him. He kindly obliged. His comments also sticks to my memory – mucha rakane ke liye such boline ka daam chahiye jo gyada logo ke paas nahi hai. isliye kaam log hi rakhte hai! English version – to keep mustache – one needs guts to tell the truth that only few have – hence, you find less people with such mustache.
While we strive towards excellence in building productivity software & services at scale and one such app – Homeo Clinics – we have dedicated for Homeopathy practitioners – it is imperative to devote time to know your customer and the domain. It starts at connecting with more & more of the practitioners, be between them to understand the problem space and invite them to use the solution. In sum total, the summit was empowering trip for me to get more into Homeopathy in general, get through bit of terminology / jargon, connect with a handful of senior & long time practitioners, get more enlightened, make few new friends & last but not the least – have a good time!