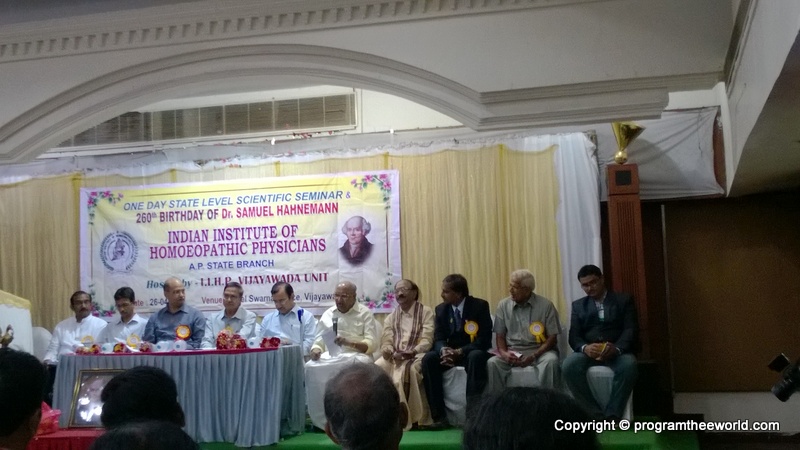 It has been over 2 weeks from the visit to GHF World Homeopathy summit. I had met Dr. KRK Prabhakar Reddy there and came to know about IIHP scientific seminar @ Vijaywada on 26th April. I had thought to go there as well but sat on the decision until Thursday 23rd April. In the meanwhile, I have traveled once more to Mumbai on a family trip; it is summer holidays for children and home alone for myself. It took few days to get used to this. I searched through facebook posts to find the contact details & reached Dr. Lakshmi. This time – we wanted not only to be with the practitioners but also introduce them to Homeo Clinics – An app for every Homeopathy Practitioner. After making few calls to Dr. Lakshmi & Dr. Baskar – which they obliged – decided to put a stall at the seminar.
This visit was different in few aspects.
I had stall duty and had limited time to listen to the speakers. Still I managed few minutes. More on this later.
I met quite a range of practitioners in their technology usage; quite refreshing & interesting conversations.
There were last minute adventures during hyderabad-vijaywada-Hyderabad travel given my absent mindedness.
Good food @ Swarna palace. Good company of other stall managers.
What remained constant – was you are still surrounded by homeopathy practitioners and policy makers.
I almost spent 1.5 days with Sreedhar, a good designer @ printo. He helped me realize & add the creative beauty – to get our flyer & banner for the stall. All through – I was pre-occupied how to best communicate the value the app brings for the practitioner. Book tickets, cab, hotel, grab meals in between and catch a little bit of sleep. It was only 25th that I could catch 7 hours of sleep. It is key since next day 26th I have to be fully awake!
It was interesting to met a full rainbow spectrum of practitioners on stall – in terms of technology usage. I met practitioners steady with manual note taking – on one side of the spectrum to another side – practitioner who wants the app on everything – ipad, android and windows. I met first practitioner using Windows Phone…ya…Windows phone Nokia lumia 720. I carry a lumia 730 – a pretty good companion. We were mid way of porting the app on Windows Phone but it is on hold until we get other work done. I met practitioners from places near vijaywada to up to Vizag –  Eluru, Guntur, Bapatala, Rajamundry, Jaggayyapet, Palakol and I am sure there were more  – who we can meet next time!
I missed taking selfies this time with interesting personalities at seminar. It met one practitioner who claimed to have every software that exists – with him and that too Top edition! When I pitched our access anywhere feature, he made interesting remark. Something on these lines — "Sir – mai clinic ke andar ghar to bhul jata hu and ghar ke andar clinic ko bhul jata hu.". In English – "Sir, I forget home when I enter my clinic. Also I forget clinic when I step out of it." Certainly, it is good practice to have a good work-life balance. but nevertheless, there is no harm in having the power (access everwhere) with you and exercise only at your will. I met Dr. Anand again (after GHF Mumbai).
I met with students from Kadappa college. Some of them aspire to take up Masters from JSPS after finishing their bachelors. I remembered Dr. Aruna from Kadappa college then. Sometime – I would visit there. I felt student crowd was relatively less but still there were still groups hanging around for tea together but not many watched the promotion of Acer Iconia Win 8.1 tablet – that we had put in Tea area!
I caught moments from the honorable commissioner of AYUSH speech who appreciated the efforts of Homeopathy practitioners – as silent workers, their contributions in controlling swine flu epidemic and inspired them to speak/publish their contributions for better recognition of Homeopathy. He also motivated students. On a low note, he expressed that there is strong need for the upgrading infrastructure at the colleges and call for action to the alumni & NRV (non resident villagers – I am not sure if I got this term right. I heard it first time in his speech) – in partnership with government – to contribute to the required fund of order of 10cr for this. I missed lectures & talks by Dr. Issac Golden, honorable minister of health – A.P., Dr N Srinivasa Rao – member central council of homeopathy and other esteemed speakers of the day.
This post will be incomplete without the mention of Dr. M. Kutumba Rao – if I heard right – he is in his 88th year. What is memorable about his speech is his sense of simplicity & humor. He inspired students & practitioners alike about the practice. It was exciting – to see him, Dr. M Jayaram (son) and Dr. M Sarala Kiran (grand son) together – 3 generations practicing Homeopathy.
About the adventures, ola cabs canceled my cab at Hyderabad. I managed to get an auto to get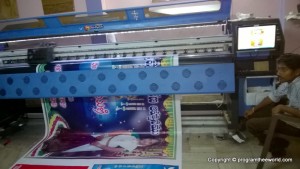 to railway station and decided to leave the banner in the auto. When I realized during the train – technology came to rescue and I found that there are banner printers next to the hotel in vijaywada. After parking @ swarna palace, I went in the nearby lanes experiencing the beautiful summer heat. I met designer & owner of Karuna Graphics who checked and gracefully directed me to Vasu Digital where I got the banner done – in fact, printing was better than the original I was carrying! I could not resist taking a pic of their huge machine setup printing huge banners.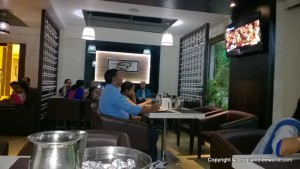 I found whereabouts of Big bazaar, buckinghampeta from local merchants to buy chocolates – I had forgotten to buy at Hyderabad previous day. Well – you got to have good time at stall and what's better than having a melody chocolaty! Food @ swarna palace does need a mention. I was pleasantly surprised for two veg meals I had there. During return – my train ticket stayed at WL1 and with a tip from Dr. Krk I decided to take a bus return journey; I avoid bus journey by all means! I got bus within 5 minutes of reaching the bus station. The onion sweetness in the highway dhaba near vijaywada for dinner – was awesome and made up for the hardship of the bus return journey. I reached Hyderabad early 3am Monday and maneuvered home in auto in empty lanes of Hyderabad experiencing cold morning breeze.
In Closing, My sincere thanks to Dr. Lakshmi, Dr. Baskar, all doctors manning registration desk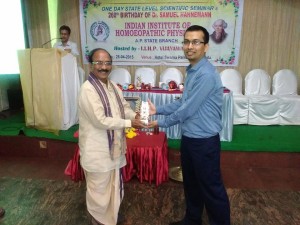 and entire organizing committee. Thanks to every practitioner who visited our stall & gave his valuable time. We will connect with you again (in fact I got a call back yesterday) to serve you! Thanks also to practitioners who  not visited our stall (but plan to visit next time – pun intended). Thanks you Sudheer for good company throughout the day, Krishna Prasad (bioforce), Siva Rama Krishna (SBL) and all other stall managers. Special thanks to Dr Krk for connecting me to event, being so warm & cordial & the tip to take the bus in night, Dr N Srinivasa Rao for his valuable time to hear us, being human & offering a ride back Hyderabad with a brief intro when he heard that my train ticket remained wait-listed and being humble & approachable.
How do you measure success? Closing a few deals. We did not. but most of the practitioners did hear us till the end and liked what we offer. We did get to meet a good number of practitioners, introduce them to Homeo Clinics – an app for every homeopathy practitioner and of course, what an eventful trip!